Introduction
Back To Project
Highlights
Park Central is a strategically located commercial and retail centre in Sector 85 of Parklands, ensuring maximum convenience to the township's residents.
Only 2 km from NH-2, Park Central enjoys superior connectivity to all focal points of the city and is within walking distance from most residential developments in Parklands and well-established residential localities of Faridabad like sectors 14 and 15.
Aesthetically designed, Park Central houses 168 shops and 90 offices and has a catchment of 5000 units, including plots and group housing.
The striking dome structures of the centre promise to be prominent highlights on the cityscape of Faridabad.
Spread over 1.5 acres, Park Central will be laid out beautifully to ensure that the experience of working, shopping or dining here will be one-of-a-kind.
Park Central is envisioned as the most popular and convenient commercial and retail centre in Parklands, catering to the requirements of the entire township's residents. The ease of access being offered by this centre will ensure high footfalls and perennial popularity.
Specification
Read about all essential details and features being offered with this project.
EXTERNAL FINISHING:
Permanent Finish – Combination of Stone/Tile Cladding & Texture Paint.
Corridor/Staircase - Cast Iron/Mild Steel Ornamental Railings, painted.
Shop Front – Mild Steel Rolling Shutters, painted.
GENERAL PROVISIONS:
100% Power Back-up with individual sub metering.
Provision for AC shops/offices.
TV/Cable/Data & Voice – Telephone point in each shop/office/restaurant.
Raw Water Supply/Waste water disposal in each shop/office/restaurant.
GENERAL FINISHING:
Foyer/Lobby – Polished Granite/Marble.
Corridor/Verandah - Polished Granite/Marble.
Public Toilets – Fully Finished.
Basement Parking – Fire Protection as per the Bye laws.
FLOORING/WALL FINISHING:
Shops/Offices/Restaurants – Cement Screed Flooring + Plastered Walls + White Wash.
Central Landscaped Court.
Boundary hedge/MS railing on low toe wall as per landscape design.
High-Speed Elevators.
*Architects and the developer reserve the right to alter specifications and facilities for design improvement.
Brochure
Browse through these pages to know more about the project, the inspiration behind it and all the features we are offering with it.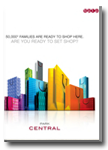 Floor Plan
Location
License Details
DGTCP Haryana has granted M/s Countrywide Promoters (P) Ltd. license no. 267 dated 03/12/07 for development of group housing over 13.18 acres. The total no. of flats approved are 1056 (including EWS) & the building plan is approved vide no. ZP-351/JD(B)/2009/11415 on 10/11/2009 There is a provision of 2 nursery school, Shopping area & etc. However low rise units are being presently launched, Note- Approvals can be checked in the colonizers office.